John's 1969 Fleetwood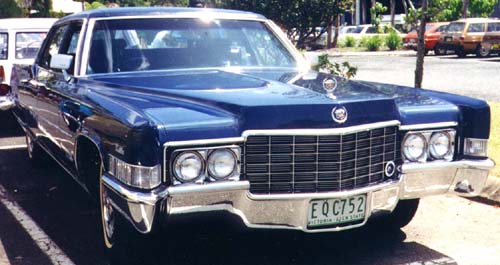 Purchasing the 1969 was a drama with a novel twist. In 1974, a good friend of mine worked for Rhodes Motors, Cadillac dealers in Melbourne. Like me, he was completely taken with Cadillacs. He rang me from work one morning to tell me that he had a bloke in the workshop who was desperately wanting to sell his 1969 Fleetwood. After discussing the car and it's condition (perfect) for a bit, he handed the phone to the Fleetwood owner who did everything to try to persuade me to at least take a look at it. At the time I had a perfect 1961 4 door Fleetwood of my own, and really didn't need another car, no matter what kind nor condition. My friend, the mechanic, was anxiously trying to talk me into updating my car, but both Trish and I were perfectly happy with the '61. The Fleetwood owner kept pushing me to take a look at the car and insisted that I should at least allow him to show it to my wife. Finally I gave in, telling him that he could bring it around the following Sunday if he wanted, but that there really wasn't any point … I did not want to buy that car.
On the Sunday morning in question, he drove out to our home to show us. It was indeed, a lovely car with only 40,000 miles on it, and looking nowhere near its four years of age. He asked, rather insistently, "Well, are you going to buy it or not?" I repeated that I already had one Cadillac, and I was more than happy with it. When he continued to insist that I at least make him an offer, there appeared no other way to get rid of him than to make an offer so low he would laugh in my face and, hopefully, promptly leave. Thus, to his amazement, I offered $4,000 … he wanted eight, but at least laughed. On reflection, he did say he would be prepared to come down to $7,000, but that was as low as he would go. Despite my continued protestations, he still wanted me to own this car.
Eventually, after some further consideration, and to my complete surprise, he suggested we toss a coin for it. There were a couple of provisos though: if he won the toss, I would pay him the full $8,000 and own the car; if I won, I could have the car for $4,000! I was astounded at this proposition, but after quite some hesitation and to-ing and fro'-ing, I finally agreed.
He tossed the coin … I WON! With that, he walked over to me, shook my hand and congratulated me on my new acquisition. I glanced over at my wife, a shocked smirk across my face, and said, "we are now the owners of TWO Cadillacs! … we will have to sell the '61!" Although it would have been nice to have kept both, I never regretted my decision. The '69 is indeed a lovely car. Over the years I have bought another '61 (4 door Fleetwood) and a '59 (also a 4 door Fleetwood) to complete my Cadillac collection (for now … don't tell Trish!).
John Stassinis