Cadillac LaSalle Club of Australia,
Vale - Stan Rumble
By John Hewitt
It is with great sadness that our club records the passing of Stan Rumble on the 27th of July 2002, three weeks after celebrating his 88th birthday. To say that Stan led an interesting and action filled life would grossly understate the level of enthusiasm he embodied.
Stan was born at Grenfell NSW on the 7th of July 1914, and spent his early years being raised on the family farm and attending the local school, where he was a bright and involved student. As he grew he learned to experience the life and times of living in the country, and worked with his family on the farm daily, often driving the horse and cart loaded with wheat to the rail siding after school. It was here that Stan took an interest in mechanics and studied to be a motor mechanic in conjunction with his schooling. This developed into a naturally gifted talent and appreciation, as he genuinely loved anything that was mechanical or had an engine. Stan soon began building motor driven contraptions and becoming interested in early engines and cars including racing vehicles.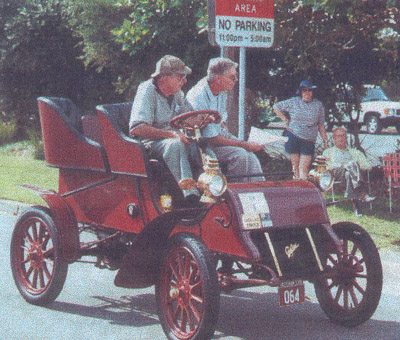 In 1940 he joined the army and served in the transport division at El Alamein in the Middle East campaign against the German Army, and also in New Guinea during the last part of World War 2. On his return to Australia he settled with his wife in Padstow in Sydney and raised three fine sons, Stan Jnr, John and Robbie who were his family and best mates. Following his wartime activity he secured a job at the oil refinery at Botany Bay where he worked until his retirement, continuing to pursue his interest in cars and having the pleasure of seeing his sons involved as well. Stan had a gentle but competitive personality never trying to gain an advantage but ever ready to give you a good race at a hill-climb event, and he held a number of national records in this sport. He would often double enter a car so he could race against his son Robbie, always racing second so he could see what time Robbie did, then go out and beat it.
As he matured Stan became almost fearless in his approach to life and at 60 years took up sky-diving to experience another type of exhilaration, all this in conjunction with his love of motoring and Veteran cars. Stan was a much-respected member of the New South Wales branch of the Veteran Car Club of Australia and at various times owned many fine Veteran cars including a 1904 REO, 1909 Maxwell, 1906 Black Motor Buggy, 1911 Renault and his beloved 1903 Cadillac which was previously owned by Ken Moss. Both Ken and Stan together took the 1903 to England in 1989 to compete in the London to Brighton Rally. Stan loved rallies and often attended one and two cylinder events towing the Cadillac on a trailer behind his 1975 Ford Torino, which he called "the aircraft carrier". At the time of the organization of the Centenary Rally to Canberra I approached Stan to come with the Cadillac however he had planned to go to Mount Gambier the following week for the national one and two cylinder rally so he was not available, but rather incredibly offered to make the car available so we could enjoy the significance of it's presence.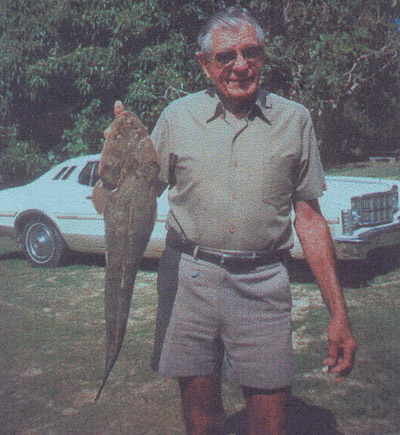 By this time Stan was now eighty-seven and still full of life, and when I visited him upon his return from Mount Gambier he proudly told me he had been stopped by the highway patrol for speeding whilst towing the Cadillac behind his Torino. In his later years Stan raced a Go-Kart, which had a two cylinder super-charged Kawasaki engine and was capable of doing in excess of 100 MPH, and he regularly drove it at this speed running it on pure methanol! He also had a penny-farthing bicycle he made, and regularly brought it to Veteran Car displays. His last event was at GM Day at Penrith in April and true to his nature he offered our members a ride in the Cadillac so we could appreciate this rare and unique car, Australia's oldest Cadillac. Stan was awarded the "Cadillac Of The Day" trophy, which thrilled him beyond measure. On the 18th of August Stan was scheduled to appear at the annual CMC Display at Eastern Creek as part of a display of ten significant Cadillacs being displayed in pit-lane, an event he was excited about attending. On the 25th of July he took unexpectedly ill and whilst being violently ill he ruptured his oesophagus causing blood to rush into his lungs and he died tragically on Saturday the 27th of July.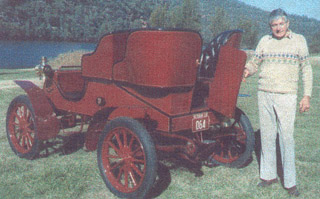 We all must be grateful that Stan shared a part of himself with us that perhaps he didn't have to, but that was his way. So we remember him doing what he loved to do with a smile upon his face. On Sunday the 18th of August I had the privilege of driving his beloved 1903 around Eastern Creek Raceway with his sons Stan Jnr, John and Robbie on board, just as he had planned to do.